Wooden Wind Chimes-Bamboo Wind Chimes Ambience for Your Home
Wooden Wind Chimes can help to create a relaxing atmosphere wherever you hang them. If your yard has a more natural decor, you may find that wooden wind chimes fit in better than other styles. When choosing your wind chime, you need to decide what kind of sound you want. Wind chimes made of wood come in all sizes.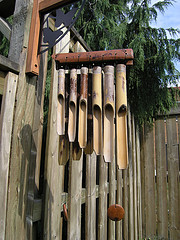 Wooden Wind chimes give you the Flavorful Sound of the Orient
While metallic chimes will sound crisp and bell-like, wooden wind chimes have a mellower, lower tone. Wind chimes with a similar sound could be made from bamboo also. Bamboo wind chimes add a flavor of the Orient wherever you hang them, and have a sound quality we describe as more Asian as well. Soft sounding, these chimes are relaxing to listen to, and are less likely to bother close neighbors than some of the sharper toned wind chimes.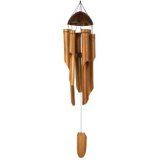 Take a look around your yard. What kind of decor are you using? If you are just starting to decorate, now is the time to decide. If you are going with a more natural look, wooden wind chimes will fit in very well. Not only are the sounds softer and more natural, the look of the wood wind chime will appear to be a part of the garden as well.
Where Is a Good Place to Hang Your Wind Chimes?
Wooden Wind Chimes
---
 Think of where you want to hang the chime. Will it be out in the weather? You may want to look for a wind chime featuring cedar wood if it will, as cedar has a long life when facing the elements. If it will be in a more protected space, you can choose any wood you like… maybe it will be rosewood or teak.
If your garden is decorated in an Asian style (bamboos, stepping stones, pines trimmed almost in a bonsai fashion), bamboo wind chimes should be an obvious choice. The tones of a bamboo wind chime should be harmonious and simple, like true Asian design. Bamboo is very durable and will last a long time outdoors.
 Wind chimes can enhance the Flow of Chi (Feng Shui)
 Feng shui is an Asian technique of arranging the items around you to best accommodate the flow of chi. Chi is the life energy that flows everywhere. Blocking this energy can create stagnation and problems in your life and health.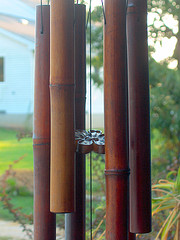 Attracting negative chi can cause problems and disruption in your life. The goal of feng shui is to clear your home of energy blockages and to attract positive chi. Wind chimes play an important part in attracting positive energy and dispersing blockages.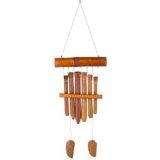 Wooden Wind Chimes Use Feng Shui Elements to Help Slow down Negative Energy
In feng shui, a wooden wind chime is most appropriate if you live in the east, the south, or the southeast. Bamboo wind chimes are hung outdoors to slow down any approaching negative energy.
Bamboo Wind Chimes
Whatever style of wind chime you choose, make sure you like the way it looks and sounds. Ultimately, that is the real reason for choosing them. Wind chimes should promote a nice relaxing atmosphere, and if you don't like the way your chimes look or sound, it won't work for you. We here at BeautifulWindChimes.com want to help you with information and resources to find the right wind chimes that will suit you.
---
Japanese Wind Chimes-The Healthy Choice for Pain Control and Relaxation
In recent years, it has been discovered that implementing the use of Japanese Wind Chimes can be beneficial in the area of pain management.The Japanese are really in tune with the elements that make up the Earth. They believe in symbolism, and that every single thing has a unique energy.
Feng Shui Wind Chimes-Create Balance and Harmony in Your Home
Feng Shui Wind Chimes are one of the simplest ways to balance your house energy (chi.) Depending on your location and your house orientation, you can use different wind chimes.Although most people think wind chimes are all alike, Feng Shui wind chimes teaches you that its materials and location have great influence.
Beautiful Wind Chimes| Creating the Best Look and Sound for Your Backyard
Everyone wants Beautiful Wind Chimes. No matter how good it may sound, if it doesn't look good no one will want it hanging from their walls or ceilings.When you start looking for a new wind chime, you better have in mind what type of chime you want.