Outdoor Teak Furniture-Humidity, Moisture No Problem for This Natural Wood
Outdoor Teak Furniture is undoubtedly the best option for rainy climates. If you've always wanted a wood patio set but you're worried about what rain might to do to your precious wood furniture (and you don't want to risk forgetting putting those protective covers on) then you'll be pleased to learn all about the particular advantages of outdoor teak furniture.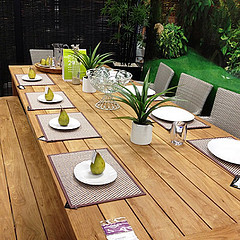 Outdoor Teak Furniture Has the Natural Ability to Be Imperious to Water Damage
Have you ever wondered why most yachts and sailing boats use teak on their decks? Indeed, teak is one of the best types of wood to use in humid and wet places. It can withstand lots of water without problem and it will dry up quickly when exposed to the sun.
What better material can there be for exterior furniture? Other than metal and synthetic materials – which lack the natural warmth of wood – there's no better alternative than outdoor teak patio furniture.
Outdoor Teak Furniture
---
Teak Is a Great Way to Add a Rustic Feel to Your Outdoor Living Space
Teak wood is one of the most dense and very extremely durable hardwoods that have a natural protection of high oil and wax content built right in. This is why teak furniture is a great choice for outdoor patio/deck and garden furniture's for your backyard. It has its natural ability to be impervious to water and mildew (also benefiting from keeping away wood eating insects). If teak is properly cared for it can last up to 80 years.
Teak furniture has the ability to be easily maintained as if it is left untreated and out in the elements it will turn a beautiful, silver gray patina after about six months. This natural change of the woods appearance does not affect the integrity that the wood furniture naturally has. Through age natural lifting of the grain in the arms and legs of the furniture and even small cracks are a normal feature of this wood as the wood is naturally expanding and contracting to your weather changes.
---
Cleaning Your Untreated Teak Outdoor Furniture Is Easy Here Is How
Untreated teak outdoor furniture does require little maintenance but an annual cleaning is a great thing to do to keep its natural beauty. This is done by just removing dirt and dust with a soft bristle brush. Then you take a corner cup dishwashing soap and a tablespoon of Leach combined with a gallon of water and you can scrub the furniture with your small soft bristled brush.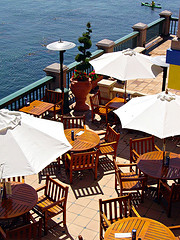 Finish by doing a thorough flushing of fresh water. If you have stains that you are trying to remove such as any oils or wine, you just have to sand with a fine grade sandpaper (make sure you stay in the direction of the grain).
While a lot of people love the silver gray rustic teak outdoor furniture appeal that the furniture will naturally get from being untreated some people love to restore the furniture to its original color of deep honey. This can be done and will have to be repeated on an annual basis if the furniture is kept with high exposure to sunlight throughout the season.
---
How to Restore the Deep Honey Color of Teak Outdoor Furniture:
Use a bristle brush and wash the teak wood with soap and water: allow completely dry.
To restore the original color apply it cheap break their then rents, you can also bring back the original color by lightly sanding the teak on each piece in the direction of the grain.
UV blocking the sealant should be applied for protection (allow to dry).
The sealant should hold out the original color of the wood for about one year, not recommended is teak oil as this helps to promote mildew growth.
---
Protect Your Teak Furniture from Extreme Temperature Variations
To protect your furniture from being rotted out from shady areas you can slowly move it into heated space areas such as sun exposure but try to do this gradually so that temperature will not increase to the point where it will damage and make the wood split. At the end of the season store your teak furniture indoors away from the harsh winter climate.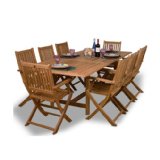 Teak Garden Furniture
Not only is "outdoor teak furniture" great for all-weather outdoor furniture, you can also find it in a variety of different styles. No matter if you need a classic outdoor set or a more modern and streamlined design, you won't have a problem finding it. Just start browsing online catalogs to see what's available, and you'll soon be enjoying your new teak furniture outside.
Remember, there is a lot of competition out there, so be sure to take your time and ensure you have the best possible deal on it. Often, a great special discount offer is just a few mouse clicks away.
---
Rustic Outdoor Furniture-Country Garden Style for Outdoor Furniture
Rustic outdoor furniture is just one of those things that make perfect sense. If you own a cabin or rustic home, is there a better way to spend quality time with family and friends than being outside, comfortably sitting on a nice set of rustic furniture?This is the place where simple exterior wood furniture is all it takes to enhance your home.
Teak Outdoor Garden Furniture-The best choice for Outdoor Wood Furniture
The quality behind teak outdoor garden furniture is one of the many reasons why individuals seek out this type of furniture for their outdoor living areas. The means in which this type of furniture is constructed allows homeowners to experience comfort in knowing that the wood can actually stand up to severe environmental conditions.