Bird Baths-Backyard, Decorative Bird Heated, Stone, Metal Water Features
Adding a Bird Bath to your garden decor is not only a beautiful garden decoration with sound but it also provides so much to the wildlife of your backyard. Providing a water feature for the birds in your garden is one of the best ways for you to invite a wide variety of different species of birds into your backyard. All birds need a source of drinking water and most if not all birds need the water for bathing too.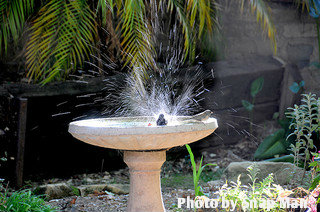 The water features that you want to add into a new yard does not always have to be limited to the traditional stone lawn birdbath monuments you now have many features and options that you can choose from including some wonderful bubbling fountains that help attract the birds to your backyard, as they cannot resist the sound of splashing and trickling water.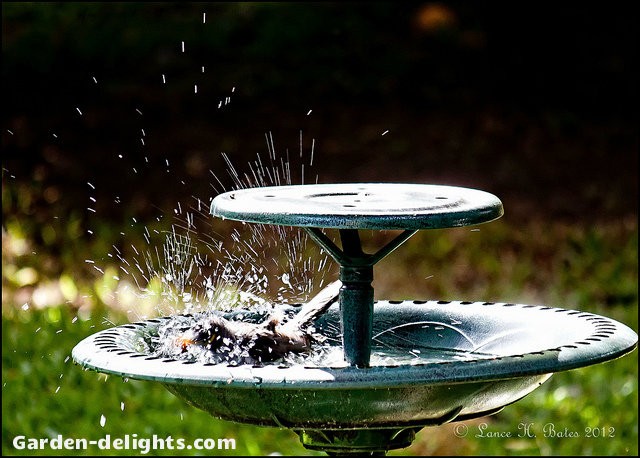 One feature that I highly recommend if possible is having a heated birdbath. These can typically be built into the unit or you can buy a heating element that you can place into the fountain, this is a great feature for freezing weather. During the winter months is the most crucial time that birds have access to a source of fresh water and food.
Decorative Bird Baths
---
Garden Ponds and Water Features for Bird Friendly Yards
The best way to create a beautiful bird sanctuary in your garden area would be to consider creating your own small pond whether you use a flexible liner or installing a preformed liner to create your garden pond. You can then surround the edge of the water area with a variety of different rocks and shale stone.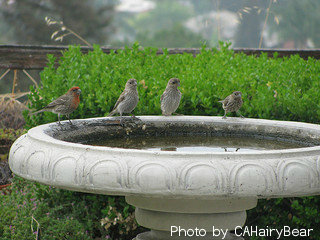 You can fit this backyard pond with a pump and a spray if you prefer allowing you to simulate some very irresistible sounds that encompass a stream.If you have a concrete or stone birdbath you may have some stagnant water and the easiest way to create the movement of water is to buy a solar powered battery operated water circulator known as a(water wiggler) that will move the water constantly through the day.
---
Best Features to Use in Your Bird Bath:
Water Depth in Your Fountain: Birds come in a variety of different sizes and it's hard to make one fit for all. So your best choice would be to have no more than 3 inches of water in the basin.
Birdbath Surface Texture: A good way to give traction to the birds so that it is not slippery because of the water in the fountain is to either buy (or build) a birdbath that has a rough textured surface not only on the bottom of the fountain but along the edges. This will give the birds something to anchor to, it's also a very safe feature for your feathered friends.
Create a Stone Island: Backyard birdbaths can sometimes be fairly deep for small birds so it is recommended that you add stones that are flat or other elements arranged in the middle of the fountain basin tops. This will give all the birds coming to the fountain a safe landing space when they are using the water.
Placement of Your Birdbath in the Yard: You want to be able to install your birdbath where you can see all the fun and excitement happening around your water feature but for safety make sure that you place it in a clearing as birds need advanced warnings if there is any predators that might be in the area that can harm them.
Keep the Birdbath Clean/Healthy: Make sure the fountain itself and especially the area around it is kept clean. It is recommended that you change the water every couple of days as debris can fly in from the wind and just overall dust in the air.
---
Busy Activity Can Entice More Birds to Come
Many of the fountains that you will find are both for aesthetics and providing resources for your birding environment. I personally enjoy the frenzy that happens around the bird feeder and the birdbath in my backyard.
The variety of birds can be very diverse although I do find a lot of sparrows that take over more than not. But everything seems to follow especially if these vast number of birds are coming to the fountain other birds are drawn to the commotion in the backyard. Typically this is what I am finding and enjoying the show.
Safety Factors/Maintenance Cleaning for Your Outdoor Birdbath
Birdbath Placement/Water Feature Viewing: This is one of the most important features that you should consider when you are planning where to put your birdbath. If you have a solar powered birdbath then of course you're going to want to have it in direct sunlight which is beneficial as it will be out in the open more. This is also a great spot so you can see the activity and the feature attractions that seem to come with all the birds in your yard. If you have just a decorative style fountain (copper, Mosaic, ceramic, glass top birdbath) then you may want to try to find a shady spot in your yard with a little bit of cover. Make sure that the shaded cover is only nearby because you want to make sure that the birds can see any predators that are lurking.
Cleaning Your Birdbath: For health reasons of the birds is a good idea to have a regular maintenance of cleaning your basin. Because of all the sediment that is in the air and from the washing of the birds you want to make sure that you have a clean bath. It is recommended to use an abrasive brush (such as a sink cleaner brush) and give it a good scrub with a lot of freshwater Flushing. Make sure you rinse it thoroughly so as to get rid of the green scum (dirt, plant matter, bird poop) that typically forms on the fountains surface.
Birdbath with Electric Water Feature: If you have electrical source that is hooked up to your water feature you want to make sure that the birds are we safe. Make sure that you have an outdoor rated electrical cord and that the outlet that is plugged into is a GFI ground (fault circuit interrupter) that can stop any harmful electrical shocks.
Wintertime and Your Birdbath: This is the most crucial time in the year to help supply fresh water to the birds. You can use an electrical element on a timer that sits inside the fountain and have it come on in the morning to thaw the middle part of the fountain so the birds have something to drink. I bought myself a heated birdbath that I can mount on the deck or use as a pedestal type of fountain. I have this on a timer and with the built-in heater it automatically melts the middle part of the water for the birds. It is recommended that if you are not going to use the birdbath at all during the winter to drain it and bring it inside as the cold weather is very harsh and will damage your birdbath.
---
Water Is One of the Best Attracting Features for Birds
One of the easiest way to attract birds is by using a water feature in your backyard, garden or even on the patio/deck of your condominium. A traditional birdbath that is on a pedestal could be a good choice for an open yard.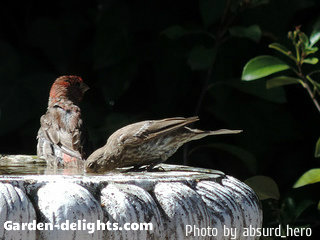 Bird Baths
While you may want to mount the birdbath on your deck railing or provide a hanging birdbath coffee or eavesdrop or a standing pole in your yard.Either way you are going to attract birds to your area and provide them with a great resource of water. All of us and Garden-Delights.com want to help you with all of our resources and information to create a beautiful backyard decor for your home.
---