Bamboo Water Fountains-Feng Shui Indoor/Outdoor Water Fountains
Bamboo Water Fountains add an exotic touch of serenity anywhere. You can get them large enough to put outside in your garden or small enough to put inside your home. No matter where you put your bamboo water fountain, it will lend a bit of the Orient to your decor.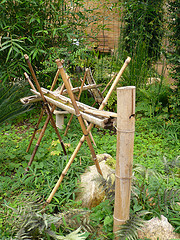 Bamboo Water Fountain Encompass Feng Shui to Flow through Your Home
There is just something that is so natural and soothing about bamboo. The Japanese have been using bamboo for centuries, and the Chinese revere the bamboo as one of the Four Gentlemen of the Garden, along with Chrysanthemum, Plum blossom, and Orchids. Bamboo is also an important element in feng shui, the art of placement. It only seems natural that bamboo would be used for water fountains, and that these water fountains in turn could be used for better feng shui.
Feng shui water fountains are commonly placed to attract positive chi, or energy to a power point inside or outside the home. The flow of water keeps the chi flowing instead of letting it grow stagnant. Using bamboo, which also represents wood in feng shui, adds an additional element.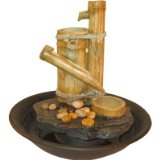 Indoor Bamboo Water Fountains Will Add a Light Soothing Sound of Flowing Water
Bamboo vessels can be used anywhere indoors to add a light soothing sound as the water trickles down. The sound of water is relaxing to most people, and it can be helpful when you need to let everything go and take it easy. Tabletop models are available at many department and discount stores, or you can shop for one online. Larger indoor water fountains can be installed just about anywhere, and can really be an impressive focal point in any room.
Bamboo Water Fountains
---
Benefits of adding feng shui to your life through flowing water:
Will bring balance to your life.
Will help make you more aware of little things in life.
Opens up doors in meeting new people.
Opens up a new world (a fresh respective on life).
Invites rewards of (prosperity and success).
Provide you with a beautiful aesthetic appeal in your home.
 Outdoors Feng Shui Water Fountains Will Create a Beautiful Oriental Atmosphere
Outdoors, feng shui water fountains can be a larger part of the landscape, becoming a focal point in your yard. One style of bamboo fountain that has been popular for a long time is the deer chaser. This fountain fills, and then tips the water back into the basin. When the water is tipped out, the bamboo piece that held it moves back to its original position with a 'clack' sound. This sound was used by Japanese farmers for centuries to frighten deer away from their crops.
 The bamboo fountain is a beautiful natural addition that you can put into any target environment. If you are trying to create an Asian flavor you have no better choices than adding a bamboo fountain. They are very durable as bamboo is a natural wood that stands up to the weather. You can find a variety of ornamental and even some beautiful functional designs that went set up can provide years of pleasure.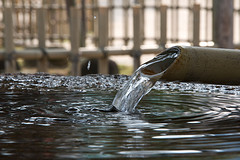 Finding the Right Position for a Feng Shui Bamboo Water Fountain Placement
Remember that you should always try to place your fountain that has the water flowing directed towards your home (not away from your home). Choosing the right size, elements/shapes will determine on what fountain you should choose. If your home is small don't choose a larger fountain, excess Yang energy will give you unbalance of Chi. Specific sectors will have different possible elements that you can choose from so depending on where your fountain faces will determine your fountain.
Finding the right element:
North: Water is the element here so you should try to use a metal fountain. Shapes should be round with white/black/deep blue colors.
Northeast: Element is Earth, try using a stone fountain with shapes consisting of square with colors of ochre, red.
East: Element is wood, here you can use a stone or wooden fountain. Shapes could consist of rectangular with colors of green/deep blue/black colors.
Southeast: Also wood element, use wooden or stone water fountain. Rectangular shapes with choice of green/deep blue/black colors.
South: Element is fire, the use wooden fountains but size should be small having a illuminated external light on it. Rectangular shapes, green/red colors.
Southwest: Earth is the element encompasses a stone water fountain with square shapes and ochre/red colors.
West: The element is being metal; this is where you would use a metal water fountain or stone water fountain. Shapes consist of round/square shapes with colors of white/gray/ochre colors.
Northwest: Element is metal, using a metal fountain or a stone water fountain with shapes of round/where with colors of white/gray/ochre.
Have the Benefit of Attracting Wild Birds to Your Backyard Oasis
Another positive aspect of putting a bamboo water fountain in your yard will be the birds. Wild birds will be attracted to the water fountain, for drinking, bathing, or anything else they can do with it. Imagine sitting in your yard, enjoying the wild birds and your soothing water fountain. Aaaahhhhhh. You can almost see it now, can't you?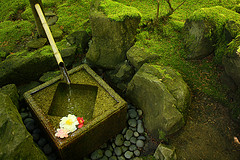 Bamboo Feng Shui Fountains
 Feng shui water fountains are available in smaller models with very little assembly required. You may need to put the water pump in place and do some minor assembly of small bamboo parts. Full instructions will be enclosed with any tabletop or larger water fountain kit that you buy. If you are looking at a tabletop indoor bamboo water fountain one great benefit of this is the added humidity that you can bring to your room especially during the cooler months when your furnace runs more (or if you live in a dryer climate).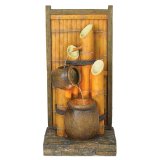 Make Your Own Bamboo Water Fountain
If you like a challenging project and have a little know-how, you can also study some designs you like and attempt to do your own. There are many books and websites devoted to water features, and you can easily learn what parts you need to buy and how to put it together.
 You certainly can't go wrong with a bamboo water fountain. That Asian influence may add a lot to your decor, and you WILL certainly benefit from the relaxing sound of water trickling down into the holding basin of the fountain. Find just the right spot to display it, and enjoy. We here at Garden-Delights.com want to help you with information and resources to find the right water fountain for your home.
---
Japanese Water Fountains-Soul Soothing (Chi) Japanese Bamboo Water Features
Japanese Water Fountains can be quite amazing. If youre buying your first water fountain, its hard not to be impressed with Japanese water fountain models.Traditional Japanese designs have the ability of letting you blend any container with the combination of a bamboo spout (plus the addition of plants).
Water Fountains Directory- Reviews,Tips,Features
Finding the right water feature for your home comes with the best resources and information.Tabletop water fountains, lighted water fountains, wall water fountains, bamboo water fountains garden fountains, solar water fountains, tips, benefits, reviews